Dear Mr. West,
We never met personally, and, assuming you're flying way beyond the skies of Gotham at this point, my typical nerd channeling doesn't feel like much of a superpower right now. I sense it a waste of time to simply "tell the world who you were." I'm pretty sure most of the internet knows that already. I can only speak of who you were to me.
The year is 1992. It's an awfully beautiful rainy evening in late December, and my cousin is draped over a velvety red couch.
There's an untouched bowl of perfectly-poured multigrain Cheerios on a perfectly-set glass coffee table. Even though I have no idea what "relationship" really means at this point, I can't help but look down at the scene from the top of a winding staircase and think, "Those Cheerios look like a fashion-obsessed girlfriend who won't accept the fact that's it's over between her and Kevin (my cousin). He's clearly distracted by the glow of technicolor, and she (the Cheerios) looks delicious. I shall steal her away, and eat her so my cousin doesn't have to choose between the pretty food bowl or the pretty show." I feel oddly sophisticated for a 7 year-old.



I stretch my way down toward the bowl, kind of like a possessed slinky you might see in some cheesy remake of Poltergeist. Just as I'm about to relieve my cousin of his neglected General-Mills love, I'm hypnotized by… a sea of… purple… letters. It feels like a group of friendly monsters leaping out of a closet to make me laugh. They spell "POW" in all their glory. The letters fade a moment later revealing a masked man in their place. I've never seen him before, but we both smile as if we know each other. In that moment, he's not so much a crime fighter as he is a youthful acrobat dancing in a custom-fit suit. Forgetting about the Cheerios, I say, "Who's THAT!?"
My cousin leaps off the coach. My attempt at stealth had succeeded, but the Cheerios were now going swimming in the deep end of our tan living-room carpet. With a hard swallow, I think (gulp),"Well, I've lived a long enough life." Despite the mess, my cousin turns and says, "That's our friendly neighborhood Batman."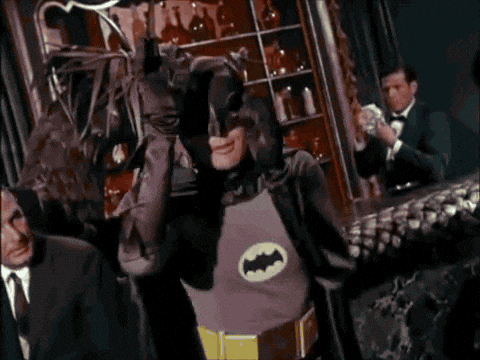 It was you. From the moment we connected on screen, you saved my day from the evil villainy of parental guidance. In an instant you were both my hero and my friend.
Forgive me. I only learned of your original identity, William, much later. However, I get the feeling he was the dreamer that gave Adam West life. Not unlike Bruce Wayne fueling the heart of Batman. The difference is, yours was born with a martini-mixture of emotional range that included an overdose of joyful and simplistic understanding. It was instantly universal, calm, and receptive.  
I must admit, I didn't get to know all the criminal caricatures on our adventures together from that moment on, but my picks for most valuable villain must go to the masterminds. No offense to your boy Robin (Burt Ward), but Frank Gorshins' Riddler was truly a wonder. He could go from mock-worthy cackle to cold, course smirk in a flash. I bet you were thrown for a loop that time he brought Charlie Chaplin back from the dead. Egghead always knowing "egg-zactly" what to do, thanks to Miss Bacon, still makes me chuckle. Come on, who didn't appreciate the genius of Vincent Price? I also understand you spoke at Burgess Meredith's memorial service. Tell them all I say hello if you see them. Also, if it's not too awkward, could you get me Burgess' autograph? You got to know him as Penguin. I can't help but remember him as Rocky's "Mick," I'm afraid.
I know there's a part of you that felt trapped in that campy role for a long while. I can't help that you were the spirit of Batman for me and so many others. If it's any consolation, all the fans, myself included, saw the Adam behind the mask. Thank you for the ad campaigns and public appearances. Thank you for Simon Trent and The Grey Ghost. Thank you for understanding your audience despite your frustrations. Not only did you embrace the satire of the 1960's with a straight face, but you somehow carried that light-hearted silliness beyond the caped crusader. You used the very satire you created in order to shine a well-deserved mirror upon yourself. I know it took awhile, but heroes with layers always do. Your patience and humor-coated self acceptance is still very appreciated.
Years beyond reruns and early voice-overs, you re-appeared to me on a Cartoon Network show called Johnny Bravo.
Yet again, in perfectly parodied fashion, you and Johnny slap-sticked your way across town uncovering the classic mystery of "Mama's Been Kidnapped." I was trapped on the couch that summer, having endured a major leg operation. You and Johnny were the only ones who managed to make me laugh. I could be wrong, but I have a feeling that show may have flipped a switch for your future magnetism, considering the episode was written by a still-unknown artist named Seth McFarlane.
One of your final reveals came in the form of Mayor Adam West, the quirky political head of Quahog.
Considering your performance on Johnny Bravo, it's really no surprise that McFarlane would cast you in Family Guy. At that time, I had just started my new life as a college freshman at Elon University. I loved your "15 Minutes of Shame" episode debut so much that I (cough) downloaded it (cough) illegally (cough, cough). I must have watched that thing at least 30 times in my second month of school. Once again, you were welcoming all of us into an alternate universe.  You just switched out Gotham for a little town in Rhode Island. The truth is, you were the same playful acrobat who introduced himself to me at 7, you were just wearing a different suit.
I'm sorry I couldn't be with you at the end of your time here, but I'm really grateful that you could be with me at my beginning.
You came to me at the perfect time– a time when I didn't understand labels, a time when "nerd" was as foreign to me as brussel sprouts. You played a role that allowed kids to be children. You gave satire a new face, so we could give fantasy a chance. I know you played a lot of serious roles in your time, too, but I must confess, I've seen none of them. They served a purpose that was not meant for me. I know you weren't always Batman. You've been a detective, a captain, a journalist, and a cowboy. You've been so many people that you actually turned down a life in her majesty's secret service (insert wink here). I haven't read your biography, but it was a wonderful joy to grow up with you. Like many in your profession, you've brought happiness to so many.
Shortly after I was first introduced to you in the early 90's, my mother took me to see Batman Returns.
While I did appreciate Tim Burton's direction and Michael Keaton's embodiment of the DC spirit, something was missing. A man appeared on the screen that I didn't fully recognize or understand. He wore the suit, carried the name, and saved the city, but he wasn't my friend. I realize this new hardened hero of heavier ideals needed to happen. I was ready for him of course, but only because of you. You showed me the world of DC Comics with the kind of glee that young people dream about. You will forever be Adam West to so many, but it wouldn't feel right if I didn't end by saying, "Thank you, Mr. Batman Sir." You've taken me back to a much more innocent time in these last few days.
It's clear to me that without your light to guide us, we may never have truly seen the dark knight.  
---